Fifteen-year-old Lailah Burell is following in the footsteps of her mother, her grandmother, and her great-grandmother. A sophomore at John Carroll Catholic High School, Lailah needs to accomplish at least 100 volunteer hours by the time she graduates. She and her mother Cortney Burell chose to volunteer at Fair Haven because of their strong family connection.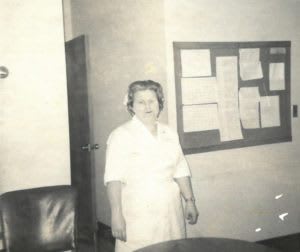 Lorraine Coon
Coon was an LPN at Fair Haven from 1962 until her retirement in 1988.
 
Cortney's mother, Denise Frye, got married in what is now known as The Good Shepherd Chapel at Fair Haven. Lailah's great-grandmother, Cortney's grandmother, was Lorraine M. Coon, an LPN who worked at Fair Haven from 1962 until her retirement in 1988, and even lived across the street from Fair Haven for a time.
"My grandmother's office was right up there," Cortney said, pointing to the third floor marketing offices that overlook Fair Haven's grand living room. "My mother even stuck her head through those bars once as a child, and emergency services had to be called to cut her out."
Courtney remembers hanging around Fair Haven herself as a child. One resident she often visited let her play with her music boxes. She said that the residents enjoyed having young people around and would sneak goodies to her.
Cortney Burell Playing Behind Fair Haven.
Cortney Burrel remembers spending time at Fair Haven as a child. Picture taken behind what is now A/B wing.
 
"I loved coming here as a kid and have a fondness for elderly people. I hope that Lailah does, too."
Lailah reports to Fair Haven's life enrichment leader who prepares various volunteer projects and opportunities for Lailah's visits. But among all of the service opportunities, Lailah says that her favorite thing to do is to spend time with the residents getting to know them.
Fair Haven, a Methodist Homes of Alabama & Northwest Florida retirement community, is located in Birmingham, Alabama, and offers seniors a full spectrum of housing and care options, including 259 nursing beds, making it the largest continuing care retirement community in Birmingham.