Senior living in Pensacola does not mean sitting around and watching television all day. With a little imagination and planning, senior living can be active and engaging. Here are some of the ways that Wesley Haven Villa, a retirement community in Pensacola, FL, has recently kept its residents living life to the fullest.
OUTINGS - One of the many joys of being a resident at Wesley Haven Villa is when residents get to go on unexpected outings. We hopped on the bus to see Christmas lights one more time before the New Year. This is one of the many adventures that our residents get to enjoy weekly. Socializing and seeing new sights is a wonderful way of getting out and about on the town.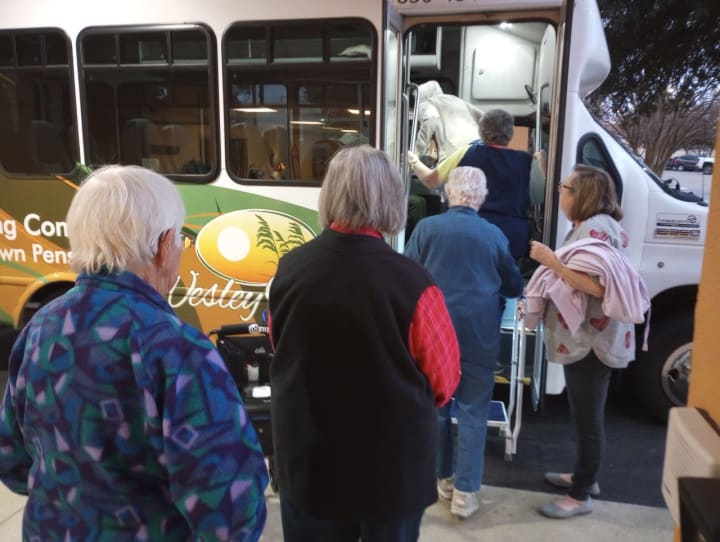 EXERCISE - Residents enjoyed a session of light stretching while listening to encouraging music. Consistent activity helps our residents to stay as mobile and active as possible. Exercise is also a wonderful way to socialize and encourage good mental health.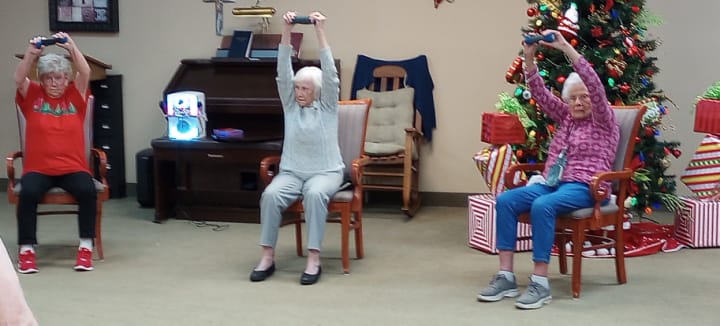 GUESTS - Sharon Young volunteered to play the piano for residents one day during lunch. We enjoyed lively gospel and Christmas music as well as a savory meal. Some of the attendees stayed after the piano playing to visit and share their appreciation.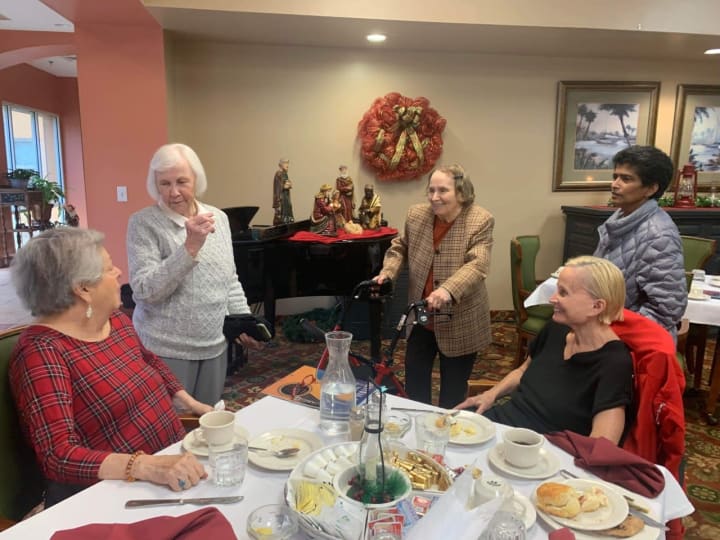 GAMES - Helen tries not to topple the blocks in an exciting game of JENGA. She was overjoyed with her successful attempt!! Every week residents enjoy socializing and anticipating the games that our Life Enrichment Coordinator, Anita Blackmon, comes up with.
PARTIES - Happy New Year!! Residents at Wesley Haven Villa celebrated the New Year all weekend. Friday was Happy Hour and a New Year's party including beverages, hors d'oeuvres and party favors. Saturday, the dietary team and the administrator cooked up an amazing New Year's Eve lunch. The menu boasted shrimp cocktail as an appetizer, prime rib or brazed chicken, roasted brussel sprouts, twice baked potatoes and was tastefully finished with bananas foster over ice cream! What a way to bring in the New Year!!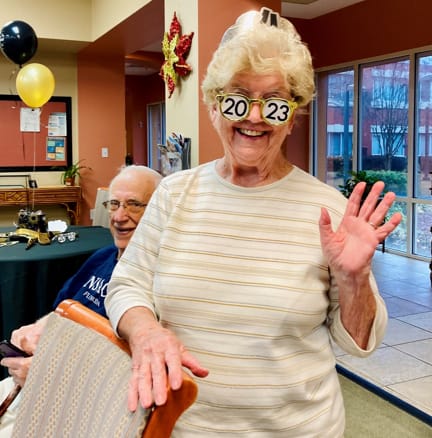 If you would like to know more about life at Wesley Haven Villa for independent or assisted living in Pensacola, FL, for you or a loved one, give us a call or complete the contact form today! Your new home at Wesley Haven Villa may be more affordable than you think.