Residents and families are thrilled to have a large, beautiful new sign at Mathison Retirement Community's driveway entrance on Highway 390 in Panama City. A highway expansion project that began in 2017 claimed quite a bit of Mathison's property, including the portion that contained the community's signage.

"We now have a new sign that identifies who we are and what our address is," said Cindy Eachus, Administrator of Mathison. "It is also lit up at night so people can easily find us during the day or the evening."

The Florida Department of Transportation (FDOT) is changing the 2-lane highway into 6 lanes. The massive undertaking is still ongoing, but it has passed the 'borders' of Mathison, which allowed them to to finally replace the entryway sign.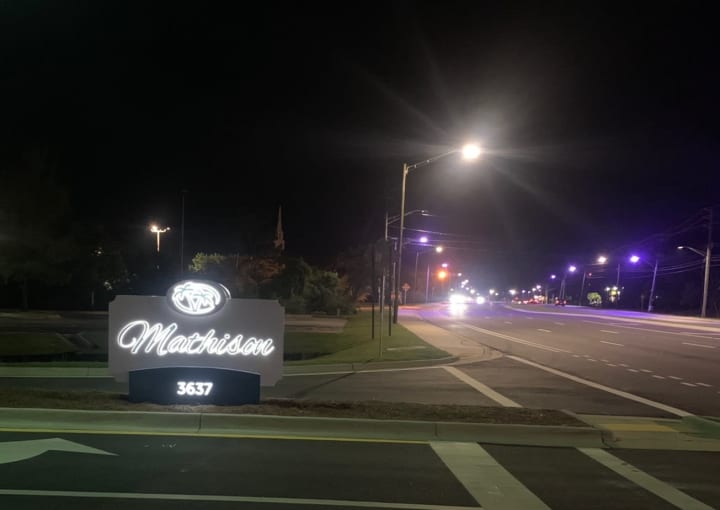 "The new sign has increased safety tremendously for people pulling in and out of our driveway," added Cindy. "Everyone is able to navigate that much better. Also, prospects can easily identify where we are located and what the name of our community is just by driving by."

Mathison opened in the year 2000, built by Methodist Homes of Alabama & Northwest Florida with the help and support of the late Tommy Thomas of then Tommy Thomas Chevrolet in Panama City. Mr. Thomas asked that the community bear the name of his pastor and friend, Rev. Dr. Si Mathison, a well-known and well-loved United Methodist minister. 

The community's new sign showcases Mathison's logo, which was about to be unveiled in October of 2018 when Hurricane Michael roared through town and forced a 6-month evacuation for repairs. Thankfully, no Mathison lives were lost in the storm among its residents, family members and staff. The community re-opened in March of 2019, and unveiled the Mathison logo on a new bus that carried residents back to their home. 

To find out more about residency at Mathison for independent living, assisted living, or memory care, contact us at 850-215-4663.