Older adults enjoying senior living in Montgomery can expect to experience the BEST of local entertainment and activities. This state capital is not only celebrated for its rich history, Montgomery is also home to many attractions, museums, universities, hospitals, arts and culture – pretty much everything you would expect from a big city with hometown charm. And you can be sure that Wesley Gardens assisted living will find a way to incorporate the local culture into its times and seasons. From locally celebrated bands to community association showcases to school and university partnerships, there's always something happening at Wesley Gardens.

Here are a few recent examples of the unique activities you'll see our residents enjoying at Wesley Gardens:
Mel's Diner March 2023

Welcome to Mel's Diner, where the cheeseburgers are tasty, fries are crispy, the milkshakes are delicious and the cars are COOL!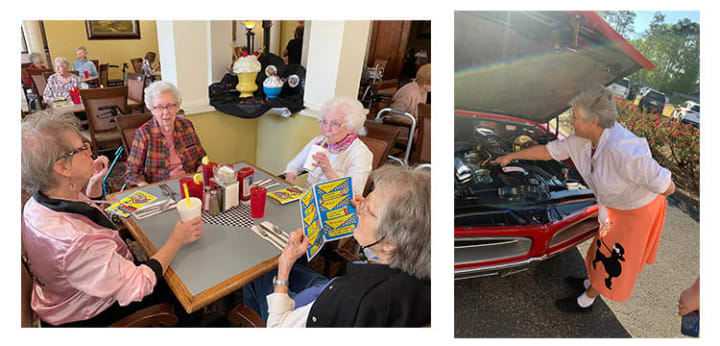 The Garden Club April 2023

Audrey Hepburn once said "To plant a garden is to believe in tomorrow." Our residents have a lot to look forward to as they enjoy shopping for and working in our community garden! 

Cinco De Mayo May 2023

The Cinco De Mayo at Wesley Gardens is a celebration of Mexican American culture. Residents enjoyed traditional Mexican dishes and drinks, and even a strolling mariachi band!  
If you're looking for an assisted living community that is sure to keep you engaged in the life you love, contact us for a tour. Check out our Facebook Page to keep up with our most current happenings.