A compassionate group of ladies from Trinity Lutheran Church in Dothan makes and gives away a variety of handmade items around the Dothan community. They make blankets, booties and hats for babies in the hospital. They make hats and backpacks for the homeless. They make blankets and quilts for dialysis patients. But it's the lap quilts and fidget blankets that they make for memory care and nursing home residents that catch our attention. As a provider of assisted living, rehab, nursing home care, and memory care in Dothan, Alabama, Wesley Place on Honeysuckle is proud to connect their handmade gifts to its residents over the last 15 years.
In February 2023, one of the quilting group's founding members, Barbara Richardson, decided to make Wesley Place on Honeysuckle her home. Barbara and Margaret Sizemore started the quilting group about 18 years ago. Today 18 members meet every other Tuesday crafting their creations with donated fabrics and other objects. The day of our interview, Barbara had just personally completed two new fidget quilts.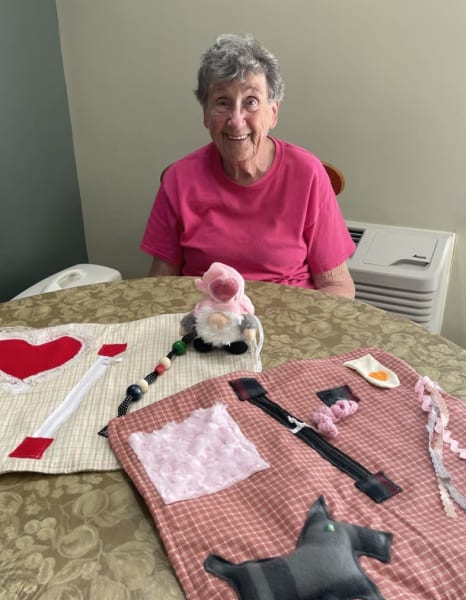 "My girlfriend and I started it back 18 years ago, and we had been doing baby quilts, birthing pads, booties and different things," said Barbara. "We've been doing fidget quilts for about 5 years."
Barbara explained that the fidget quilts were added to the Trinity Lutheran Church quilting group's project offering when a quilting group member's husband began experiencing cognitive challenges. "She told us about fidget quilts," Barbara recalled. "We looked it up on the computer and found out how to make them. We have been giving them to the nursing homes and places where dementia patients are. It helps them because it gives them something to do and things to touch."
Barbara makes herself available to her neighbors and friends at Wesley Place on Honeysuckle who want to learn to make fidget quilts and other items as they are able. The fidget quilts may come with zippers, beads, buttons and button holes, and even stuffed animals. Each fidget quilt is handmade, and each is unique.
In March 2023, the Trinity Lutheran Church quilting group's handiwork was awarded first as part of a featured booth at the Chamber of Commerce Spotlight on Business. The theme was "Experiencing The Arts", where the creative talents of a number of residents were featured at the award-winning booth.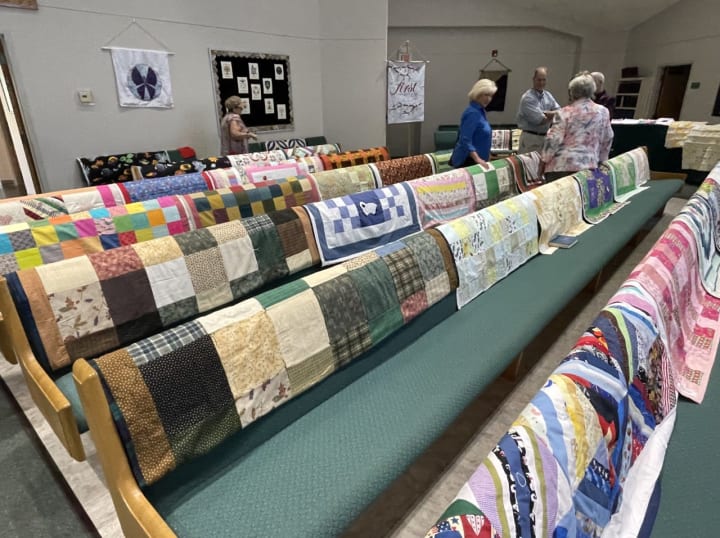 Once a year, the quilts and other items are laid out lovingly over the church pews at Trinity Lutheran Church and a ceremony is held known as "Blessing of the Quilts". A prayer of blessing is prayed over each one:
In the name of our compassionate Savior, we give thanks for the hands who prepared these quilts and other items to help comfort those in need.
Father, we now dedicate all of these items to the glory of God. We ask that You shower blessings upon the people who will use them. May each Item be a constant reminder of Your love and Your grace.
Teach us all to use our talents to reach out to those in need, that we may not only speak Your words of love and grace, but demonstrate them in tangible ways. May Your love travel with each Item even as they are passed on to other people in need.
This we pray, in the name of The Father, The Son, and the Holy Spirit. Amen!

If you're interested in finding out more about memory care in Dothan at Wesley Place on Honeysuckle, contact our admissions team today for pricing and availability.