Much has changed since March 2020 when group activities, including communal dining, came to a full stop. So, what do activities and engagement look like in a retirement community almost a year later, now that we know more about how the virus spreads and the protective measures to fight it?
We spoke with Arriane McArthur, a certified activity director (ADC), who took on the role of activities and life enrichment at Wesley Place on Honeysuckle in Dothan, AL, in November 2020. Arriane brings expertise from her background as a CNA, topped by 20 years of directing activities, the last four years working specifically with residents challenged with dementia. Here are just a few of the tactics that Arriane uses at Wesley Place on Honeysuckle in Dothan to ensure the health of residents while also maintaining very important social connections.
We require face coverings
No matter what the activity, as long as a mask order is in place, when participating as a group during the pandemic, residents and staff members will continue to wear a mask, and wear it properly covering the nose and mouth.
We individualize activities
Arriane spends time with each resident getting to know their likes, dislikes, hobbies, pastimes, skill levels and preferences. This allows her to select just the right activities that will bring residents joy and satisfaction.
We spread out participant chairs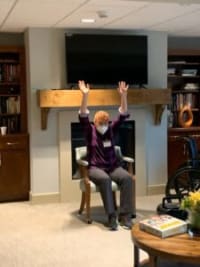 We provide crafts that have individual supplies
In the past, group craft activities allowed residents to gather around a table and share supplies, but now, to reduce the risk of sharing germs during the pandemic, we are minimizing the number of craft supplies that are shared. We make use the dining room when not in use for meals, seating one resident per table, making it possible to do crafts separately, but together. Paints, colored pencils and other items are provided to each individual for crafts.
We play floor games
Many floor games can be enjoyed together while social distancing. Games such as ring toss, horseshoes, and corn hole are enjoyed inside or outside, with the game pieces wiped down between turns.
We play no-touch board games
Games like Yahtzee, Wheel of Fortune and Bingo can be played while social distancing. Many other traditional board games can be played simply by giving everyone their own set of dice and putting the game board on a rolling cart in the care of one person who keeps score, reads action cards, and moves game pieces around the board.
We enjoy music in the hallways
With a chair placed outside each resident's apartments, live music can be enjoyed together as it is played or sung in a hallway.