A grandson named Neal living in a different state from his "Grandma" sent her a touching note opening his heart, describing memories, and reminiscing about the influence she has had in his life. A pillar in her family, Jean Ray celebrated her 103rd birthday this summer at Wesley Place on Honeysuckle (Dothan), and passed away on Oct. 27, about a week after receiving this letter. The letter is pictured below, but within is the text of Neal's beautiful prose. We hope you find this timely tribute as moving as we do.
GRANDMA
(Jean C. Ray)
A life so long, so full. 

A century of personal history that skipped along to the extremes of the world around you. One astonishing story after another. And my fondest memories of you came when my youth had me ignorant of it all. I just knew you, as grandma. 

You had me riveted to your every word. Advice. Stories. Instruction. My summers in Lake Geneva passed in slow motion. Until I went to 'Gram's', and I would lose track of time. Treasuring the economy of all, relics with stories, harvest bounty, recycled magic. The creative spirit and gusto that spot-lights the joy of life is a gift few experience. But I expected such with every arrival at 'Gram's'. 

I am sorry I have dropped away with time, as many in your life have. Life is cruel that way. But you are with me, in me. I have so many fond memories. You were my lighthouse so often in my youth. I owe you forever love. 

I have photos that are slices of your life, unstaged, in action. My favorite kind. All the life you kindle, your beauty, inside and out, on display. I am so proud to be a part of your heritage. I feel part of your lineage. You have always taken great pride in your family. 

Everybody has a grandma. Everybody loves their grandma, and they should. But you are a sacred treasure that has stirred the soul of those of us who follow. Thank you for that. Thank you for you. 

May the blessings of God's love lead you to peace and eternal gratitude. 

Neal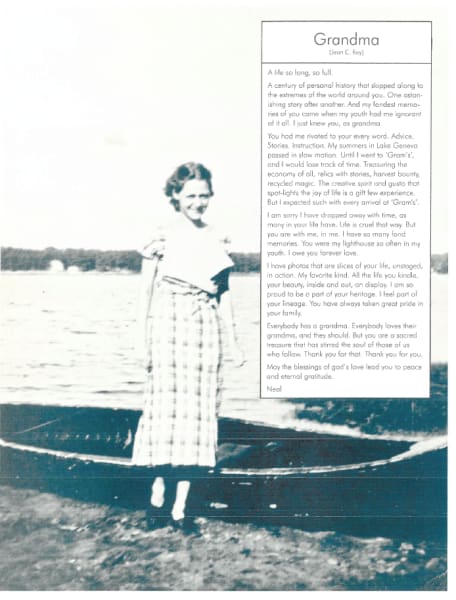 For information about making Wesley Place on Honeysuckle your next hometown address, contact our admissions team at the phone number above or use the contact form to communicate via email.